Our Story
HOW WE MET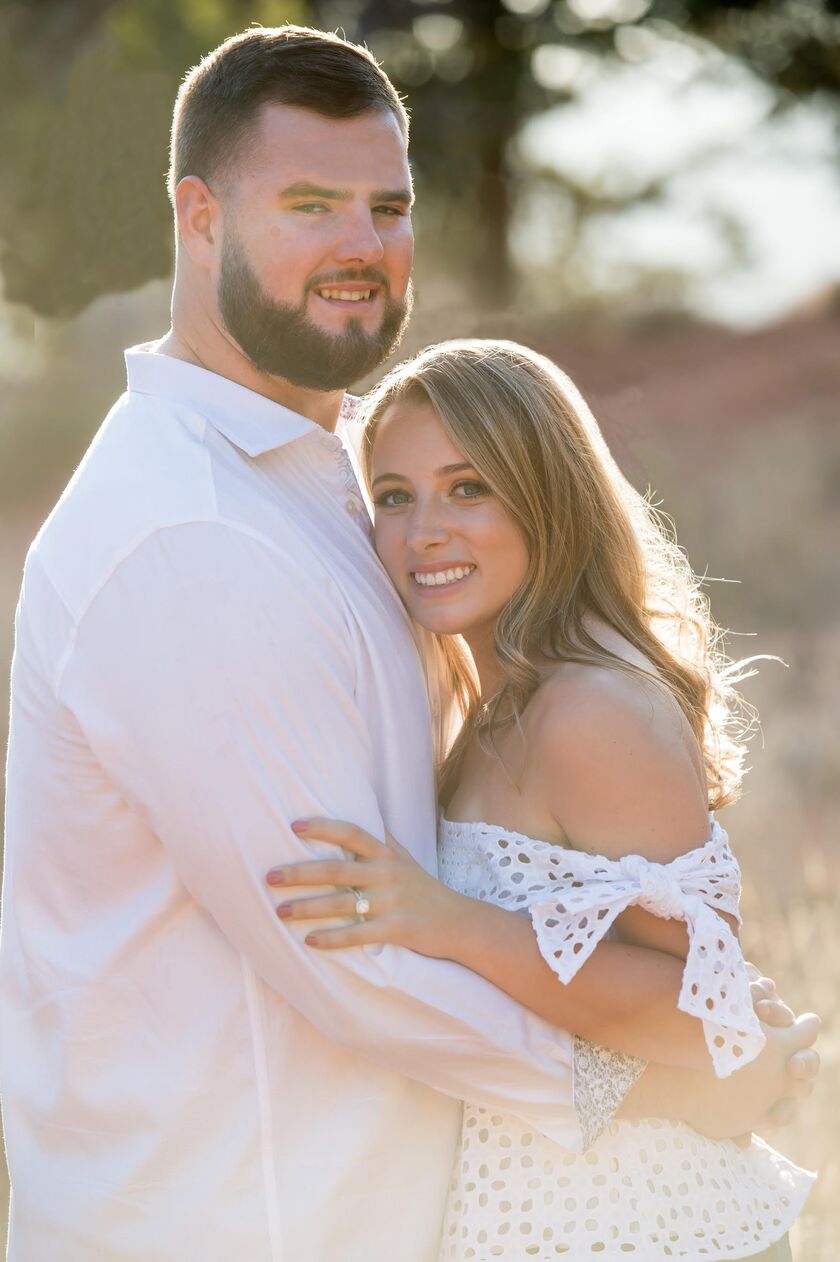 Casey: On August 18, 2012, I was moving into my dorm at Vanderbilt University, ready to begin my freshman year of college, when a 6'7" boy appeared in my doorway. Apparently, the football team had been instructed to help the freshmen carry their heavy boxes upstairs, and this offensive lineman had found his way to my room. As you may imagine, my dad was not too pleased to see this large boy arrive and make small talk with his only daughter, just as he prepared to leave her 900 miles from home.
Will: When I first met Casey, I honestly didn't know what to expect. I came from a different lifestyle than most students at Vanderbilt and I was unsure how Casey and her family would see me. They probably assumed that I was just a "typical jock" trying to pick up another girl. However, that was far from the truth. I was instantly drawn to Casey and her bubbly personality. Nonetheless, Casey and her family made me feel comfortable – even in her own dorm room. It only got awkward for a split second when I decided to voice my opinion about the sport of baseball… to a baseball family.
The awkward moment in Casey's dorm room proved to be a smaller obstacle to overcome, especially compared to the amount of effort I had to put in to convince Casey to go on a date with me. At first, she wouldn't budge but, luckily, after some prodding from her friend, she finally accepted my invitation to a fancy dinner at Chipotle.
After that, it was smooth sailing. I told Casey right away that I would marry her one day.
Casey: My favorite thing about our relationship is that, throughout our five years of dating, we've grown both individually and as a couple. As literally as I've been Will's cheerleader, he's also been mine. Together, we've moved across country, we've explored new cities, and we've made new friends. Our life together has been a constant adventure, and I'm so unbelievably happy to be continuing along this crazy journey with Will.
Will: I also love that our relationship epitomizes the saying that "opposites attract." We look and act like complete opposites. For instance, I'm 6'7", while Casey is only 5'2"; I grew up in a small, southern town, while Casey grew up in a big city; I go with the flow, while Casey prefers to plan every detail. Our personalities and backgrounds may be opposite, but we are still so compatible. We learn from our differences every day. Casey pushes me to succeed and supports me every step of the way, while I teach Casey to live in the moment and enjoy every day.
HOW HE ASKED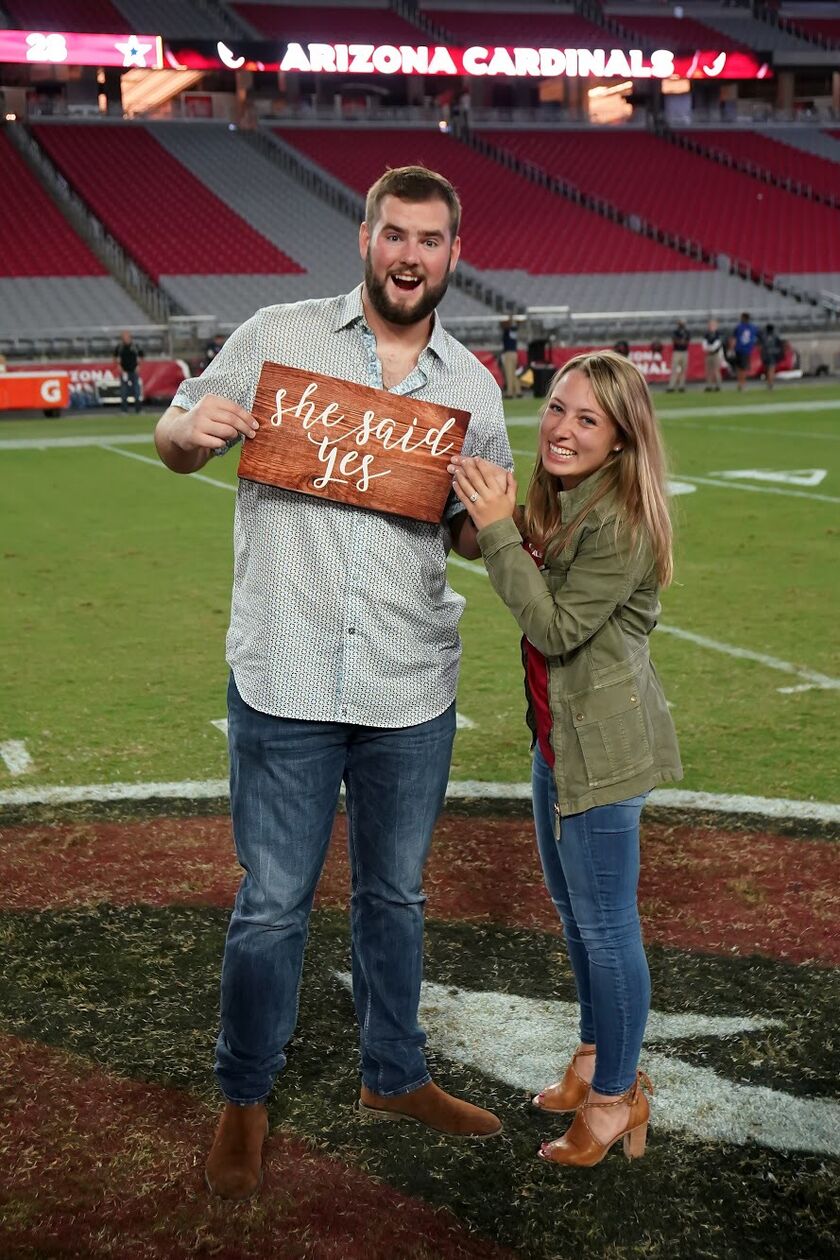 Casey: On September 25, 2017, I was cheering for Will as his team, the Arizona Cardinals, took on the Dallas Cowboys for Monday Night Football. It was the first home game of the season, and Will's family and my best friend, Claire, were in town for the game. Once the game ended, we went to meet Will in the family section. While we were waiting for him, Claire asked me if we could take a picture on the football field. I told her that we weren't allowed on the field, but she insisted on asking someone who worked for the team anyway.
Will: I had someone who works for the team planted there. When Claire asked if they could take a picture, he said, "Sure" and brought them onto the field. As they walked out, I was standing on the 50 yard line with a ring in my hand, waiting for the girl of my dreams. As she walked up to me, I grabbed her hand and reminded her that I knew I would marry her since our freshman year.
Casey: The rest of what he said was a blur. I just remember standing there, so thankful that such a caring, respectful, and supportive man was standing in front of me, asking me to marry him, while his family, my best friend, and – unknown to me at the time – my parents gathered behind us. I couldn't help myself as the happiest of tears streamed down my face.
Will: I think she was nodding and saying, "Yes" before I even got down on my knee. I was so happy that I could remain true to my promise from freshman year, and formally ask Casey to marry me.
The Wedding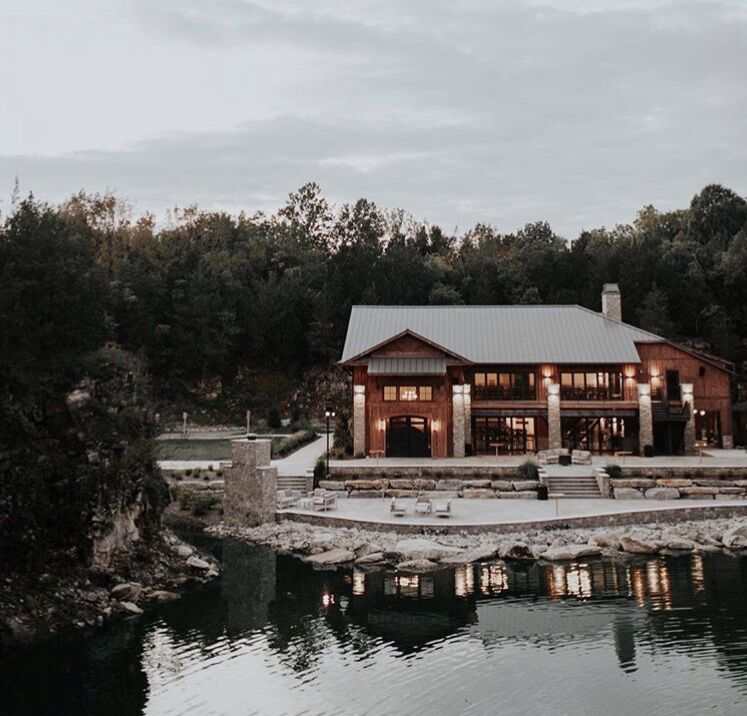 Saturday, March 9, 2019
4:30 PM
Attire: Cocktail Attire
Ceremony and Reception
Graystone Quarry
4520 Graystone Quarry Lane, Franklin, TN
Other Events
Rehearsal Dinner
Friday, March 8, 2019
6:00 PM
Moto Cucina + Enoteca
Due to limited space, this event is by invitation only for the wedding party. We do appreciate you coming in a day early, though, and hope you'll spend the time exploring the great city of Nashville! If you need recommendations, please find them on our "Things to Do" page or in your Welcome Bag letter.
Post-Wedding Celebration!
Saturday, March 9, 2019
11:00 PM
Acme Feed & Seed
101 Broadway, Nashville, TN 37201, USA
After the wedding, you can meet us at Acme Feed + Seed for more drinks & more dancing! Those who are still awake (which may or may not include Will & Casey) will be on the first floor. Please purchase your own drinks!
Wedding Party
Claire Anderson - Maid of Honor
How We Met: Claire is Casey's little sister in her sorority. Ever since they met and bonded over their mutual nerdiness, Claire has been Will & Casey's permanent (and favorite) 3rd wheel
Likes: Frequent almond butter snacks, carrying a fork on her at all times, Seahawks (sorry Will), soccer, music, and Top Golf
Dislikes: Eating anything without kale in it
What You'll Find Claire Doing at the Wedding: Sitting in between Casey and Will, talking to everyone, managing the timeline of events, and double fisting granola - all at the same time
Chloe Hayes - Bridesmaid
How We Met: Chloe is Casey's big sister in her sorority and former college roommate. She's also engaged to Will's groomsman, Colby. Be nice to them at our wedding and you may get an invitation to theirs!
Likes: Snuggling with her puppy Reia, mac & cheese, steak, salt on EVERYTHING, and tearing up the dance floor
Dislikes: Being asked about her dislikes
What You'll Find Chloe Doing at the Wedding: Starting the dance party, putting salt on her food, and occasionally video chatting with her dog
Kendall Dacey - Bridesmaid
How We Met: Kendall is a fellow Jersey girl and sorority sister of Casey's. When Casey desperately needed a wardrobe change for college (goodbye, high school button downs and khakis), Kendall took Casey shopping and Casey hasn't stopped pestering Kendall to hang out ever since
Likes: Puppies, yoga, ice cream, travel, spending too much money on lattes and macaroons, and eating food that she didn't cook
Dislikes: Gluten, rain, and paying bills
What You'll Find Kendall Doing at the Wedding: Having the best painted nails, eating gluten free food, and enjoying Dave (Father of the Bride) singing along to any country song that the band plays
Sarah Bruce - Bridesmaid
How We Met: Sarah and Casey met the first week that Casey was born. (Neither of them really had a choice because they're cousins.) Sarah immediately loved Casey (because she's the smartest Bruce) and always resented the fact that Casey's parents didn't make her wear ridiculous Nittany Lion PJs like hers
Likes: Ketchup, Jell-O shots, medical school, and (unfortunately) everything Penn State
Dislikes: Chocolate and being hungover every single Thanksgiving
What You'll Find Sarah Doing at the Wedding: Showing everyone that she can drink a beer in 4 seconds and looking after her sister (see below)
Lauren Bruce - Bridesmaid
How We Met: Casey and Lauren also met the day Lauren was born because they are also cousins. Casey has always been the prettier cousin, but Lauren has her perks. Lauren immediately brought the party life to the Musicant / Bruce family, as well as the food fights
Likes: Getting free drinks at bars, fried rice, Jennifer Aniston, flip cup, and imitating Caitlyn Jenner
Dislikes: Ketchup and when the party's over
What You'll Find Lauren Doing at the Wedding: Running the beer pong tables, snapchatting, and breakdancing
Jenna Curcura - Bridesmaid
How We Met: Jenna is Casey's oldest friend. They met in pre-K and became inseparable when Jenna got the chicken pox on Thanksgiving. Casey sent Jenna a "turkey pox" care package, and has basically been bribing Jenna to be her friend all 20 years since then.
Likes: Country music, craft beer, and telling Casey's most embarrassing childhood stories
Dislikes: Birds, foods that come from the ground (duh), poor grammar, and the fact that Casey still won't give the middle finger
What You'll Find Jenna Doing at the Wedding: Crying (happy tears, of course), and introducing herself to any eligible bachelors
Erika Rademaker - Bridesmaid
How We Met: Erika is Casey's closest friend from high school. Together, they survived 4 years of MKA's dress code and ate endless amounts of Enzo's pizza and Belgy's subs
Likes: Puppies, tequila, thunderstorms, coffee, ketchup, Justin Bieber, Taco Bell, Friday Night Lights, and 90s music
Dislikes: Nutella, hangovers, fish, perfume, airplanes, burnt toast, and - most importantly - Casey's morning breath
What You'll Find Erika Doing at the Wedding: Begging the band to play Justin Bieber (no, Erika, it's not happening)
Nina Forenbaher - Flower Girl
How We Met: It's a true miracle that brought Nina and Nickolas (our favorite twins!) into the Musicant family's lives. Their mother, Marija, was the witness to Dave's horrible accident in 2015 and we truly believe he would not be with us today if it weren't for Marija and her wonderful family
Likes: Princesses, Wonder Woman, dancing, and coloring at the Musicant's house
Dislikes: Monsters
What You'll Find Nina Doing at the Wedding: Dancing with Uncle Dave
Nickolas Forenbaher - Ring Bearer
How We Met: It was love at first sight when Casey met Nickolas. He immediately made Will jealous when he declared "Tacey" as his girlfriend. In fact, we are a little nervous that he may not actually hand the ring over to Will... stay tuned.
Likes: Bicycles, soccer, monster trucks, and eating M&Ms at "Aunt Tulie's"
Dislikes: Spinach and Will marrying his girlfriend "Tacey"
What You'll Find Nickolas Doing at the Wedding: Being bribed with M&Ms by Will all night to keep him away from "Tacey"
Jordan Brown - Best Man
How We Met: Will met Jordan and his twin brother, Josh, in middle school. Will asked them if he could go to the Jacksonville Suns game with them... little did he know that they didn't have tickets and they'd need to sneak into the stadium. They've been inseparable - and equally as mischievous - every day since
Likes: Working out, making fun of his cousin, Chad, being a firefighter, and getting overserved at Vandy
Dislikes: Being confused for his twin brother, Josh
What You'll Find Jordan Doing at the Wedding: Hovering around the open bar and maybe even dancing with his new girlfriend (#newjordan #whodis)
Kevin Holden - Groomsman
How We Met: Kevin and Will met the day Will was born because... well... he's Will's brother.
Likes: WWE, beer, liquor, and just about anything else that'll be free at the open bar
Dislikes: Settling down (sorry, ladies) and working night / weekend shifts
What You'll Find Kevin Doing at the Wedding: Hovering around the open bar and introducing himself to every girl
Ross Musicant - Groomsman
How We Met: Will and Ross met during Will and Casey's freshman year when Ross came to move Casey into Vandy. Ross didn't talk much, but he did threaten Will to stay away from his sister... just kidding. How ridiculous would that be? Ross was a sophomore in high school and barely weighed a buck twenty.
Likes: The NY Mets, Rangers, and kicking Will's ass in beer pong, golf, and Xbox
Dislikes: Cheese and ketchup
What You'll Find Ross Doing at the Wedding: Dancing like Napoleon Dynamite and beating everyone in beer pong
Josh Brown - Groomsman
How We Met: Will and Josh also met when they snuck into the Jacksonville Suns game together. They have also been friends ever since, but Josh has been a bit more mischievous...
Likes: [This content is not suitable for all audiences]
Dislikes: Being confused for his twin brother, Jordan
What You'll Find Josh Doing at the Wedding: Hovering around the open bar (this seems to be a trend with Will's friends...?) and reliving high school stories with the Clay crew
Colby Cooke - Groomsman
How We Met: Will and Colby met when they became teammates on the Vanderbilt football team. Colby was the team's punter, and he and Will quickly became roommates and Vanderbilt besties
Likes: Video games, movies, his puppy Reia, and his fiance Chloe
Dislikes: Wine
What You'll Find Colby Doing at the Wedding: Trying to play Xbox upstairs in the groom's quarters
Evan Boehm - Groomsman
How We Met: Will and Evan met during Will's first day with the Cardinals. Evan was last year's rookie and he was happy to turn the rookie duties over to Will. Evan is Will's best buddy on the Cardinals... mostly because he's always available to play Xbox and let Nash run around in his backyard. Evan is literally the same exact person as Casey... just with a beard and a couple hundred more lbs.
Likes: His fiancé Ashley, his fiancé Ashley, and his fiancé Ashley. When he's not drooling over Ashley, he also likes sports, guys nights, traveling, and Nash coming over to pee on his lawn
Dislikes: Brussel sprouts, losing at anything (especially Cards Against Humanity), and sweating
What You'll Find Evan Doing at the Wedding: Sweating (even though the wedding is in March), photobombing Jules' pictures, and sweating some more
Shane Altizer - Groomsman
How We Met: Will and Shane met in 1st grade, when they joined the same Cub Scout pack. Shane is Will's oldest friend.
Likes: Playing golf, watching football, traveling, and spending time with friends and family
Dislikes: Hardcore music, vodka, and mayonnaise
What You'll Find Shane Doing at the Wedding: Still bragging about the Eagles winning the Super Bowl